Route 66 is a legendary highway in the United States that stretches over 2,400 miles from Chicago, Illinois, to Santa Monica, California. Also known as the "Main Street of America," Route 66 is an iconic symbol of American culture and history, attracting tourists worldwide. So, where exactly does Route 66 start and end? Join us on a road trip along this celebrated highway as we unveil the wonders that lie along its path. Uncover the heart and soul of the United States.
You cannot drive the entire original Route 66 from Chicago to Santa Monica. Parts of the road have been replaced or destroyed over the years. That doesn't mean that it's not worth taking the journey. On the contrary, the road not being continuous adds to the charm and nostalgia of traveling along Route 66. Travelers must navigate detours and alternate routes that take them through small towns and scenic byways.
Plus, many historic roadside attractions and landmarks that made Route 66 famous are still standing. They make it a unique and rewarding road trip experience for visitors. Whether you're a history buff or just looking for an adventure, driving Route 66 is a journey you will remember.
History of Route 66
Route 66, also known as the "Mother Road," a term coined by John Steinbeck in his 1939 novel, "The Grapes of Wrath," was one of the original highways in the US highway system. Built in 1926, the old route played a significant role in American history. It connects the East and West coasts during westward expansion and discovery.
In the late 1950s, the Federal Highway System began constructing new, more direct highways. They bypassed many small towns and attractions along Route 66. Over time, this led to a decline in traffic on the Mother Road. By the 1970s, the highway was no longer considered a primary transportation route.
In 1985, Route 66 was officially decommissioned, no longer part of the Federal Highway System. The new Interstate Highway System replaced it – however, the legacy of Route 66 lives on through the efforts of preservationists. The National Park Service designated many sections of the highway as National Scenic Byways or historic districts. This recognition ensures that they will be preserved for future generations.
Where Does Historic Route 66 Start and End?
The Starting Point of Route 66
The official eastern terminus of Route 66 starts at the intersection of Adams Street and Michigan Avenue in downtown Chicago, Illinois. This location is marked by a plaque and a sign that reads, "Historic Route 66 Begins Here."
The Ending Point of Route 66
When Route 66 was first established in 1926, its western terminus was in downtown Los Angeles, California, at 7th Street and Broadway. This was the original endpoint of the route, and it remained unchanged for several years.
However, in 1936, the route was realigned to terminate at the intersection of Olympic Boulevard and Lincoln Boulevard in Santa Monica, California. This became the new western endpoint of the route and is now recognized as the "official" ending point of Route 66.
In recent years, the intersection of Pier Avenue and Main Street in Santa Monica has been recognized as the "unofficial" end point of the route.
Attractions and Scenic Areas on Route 66
Driving along Route 66 offers travelers a chance to experience the spirit of the Wild West, with its rugged landscapes, historic towns, and unique cultural heritage. It's a fantastic experience that takes you back to the golden age of American travel. The road is dotted with vintage gas stations, motels, diners, and other iconic landmarks that evoke a sense of nostalgia and adventure.
Route 66 Illinois
Illinois, the starting point for Route 66, offers several attractions and landmarks worth visiting. Some popular stops include the Shea's Gas Station Museum and the Abraham Lincoln Presidential Library and Museum in Springfield.
The state is also known for its iconic diners, such as the Ariston Cafe in Litchfield and the Cozy Dog Drive-In in Springfield, which are must-visit spots for anyone traveling Route 66.
Route 66 Missouri
Missouri is home to some of the most iconic tourist attractions along Route 66. The Gateway Arch in St. Louis, an iconic symbol of American expansion, is a must-see for any traveler visiting the city. Further west, visitors can stop by the Meramec Caverns in Stanton. Once there, they can explore the stunning underground caves once used as a hideout by the infamous outlaw Jesse James.
Another popular tourist attraction in Missouri is the Chain of Rocks Bridge in Madison County. This historic bridge spans the Mississippi River and is known for its unique 30-degree turn in the middle.
Other popular stops in Missouri include the Route 66 State Park in Eureka, which offers hiking and biking trails, and the Route 66 Museum in Lebanon, which showcases the history and culture of the mother road.
The state is also known for its classic diners and drive-ins, including the iconic Ted Drewes Frozen Custard stand in St. Louis and the 66 Diner in Springfield, serving classic American fare with a side of nostalgia.
Route 66 Kansas
In Kansas, the town of Galena is a popular stop for its nostalgic Main Street and the historic Cars on the Route museum. The museum features the tow truck that inspired the character of Tow Mater in the animated film "Cars."
Further south, Baxter Springs is home to the historic Rainbow Bridge. It's a colorful arch that spans Spring River and is believed to be the oldest concrete bridge on Route 66.
Route 66 Oklahoma City
One of the most famous sections of Route 66 runs through Oklahoma City, Oklahoma. This stretch of the mother road is known for its unique combination of modern amenities and historical landmarks. Travelers can visit the Oklahoma City National Memorial and Museum, which honors the victims of the 1995 bombing. They can also visit the historic Stockyards City, which harkens back to the Wild West days of the city.
One of the most popular attractions along Route 66 in Oklahoma is the Route 66 Museum in Clinton. It showcases the history and culture of the Mother Road through interactive exhibits and displays.
Route 66 Texas
In Texas, travelers can explore the historic Cadillac Ranch in Amarillo, where ten classic Cadillacs have been buried nose-first in the ground as an art installation. Visitors are encouraged to bring spray paint and leave their mark on the cars. This makes the building a constantly evolving work of art.
Further south, McLean is home to the Devil's Rope Museum. It's a unique attraction dedicated to the history and significance of barbed wire. The museum features many barbed wire artifacts, including tools, fencing, and even a barbed wire wedding dress.
Route 66 New Mexico
New Mexico is known for its stunning natural landscapes and cultural attractions. This includes the Taos Pueblo, a UNESCO World Heritage Site that dates back over 1,000 years. Visitors can explore the adobe homes and buildings of the Pueblo, still inhabited by Native Americans today.
Further south, travelers can stop by the Blue Hole in Santa Rosa. It's a natural swimming hole fed by an underground spring known for crystal-clear blue water. Tucumcari is also a popular stop for its vibrant Route 66 murals. They depict scenes from the mother road's history and culture.
In Tucumcari, New Mexico, travelers can stay at the Blue Swallow Motel. It's a well-preserved historic motel that dates back to the heyday of Route 66. It still features classic neon signage and vintage decor.
Route 66 Arizona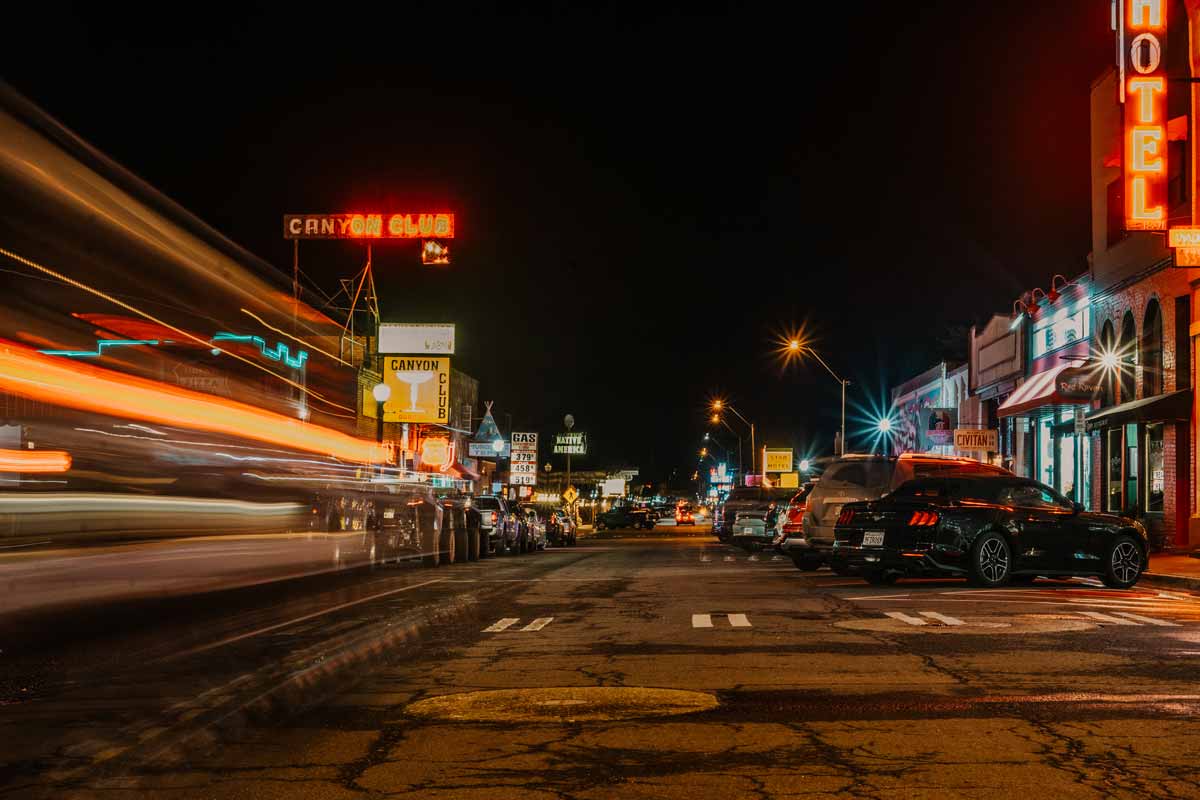 Arizona is home to some of the most famous attractions along Route 66, including the Grand Canyon, Petrified Forest National Park, and the Painted Desert. Along the route, travelers can also visit the historic mining town of Oatman. This little town retains its Wild West charm, complete with gunfight reenactments and resident donkeys roaming the streets.
Another iconic stop along Route 66 in Arizona is the Wigwam Motel in Holbrook. There, travelers can spend the night in a unique teepee-shaped motel room and experience a taste of classic Americana.
The town of Williams is another popular stop, with its charming downtown area, historic Route 66 landmarks, and access to the stunning San Francisco Peaks. Route 66 in Arizona also features some of the most iconic neon signs and vintage motels. It's a must-see destination for fans of Americana and roadside attractions. 
If you're looking to explore the vibrant and historic Route 66 in Arizona, don't miss out on our dedicated article with detailed insights on things to do in Williams, Arizona, along this iconic highway. Discover hidden gems, unique attractions, and exciting experiences by visiting the article here: Read More.
Route 66 California
Route 66 in California offers some of the route's most iconic and scenic stretches, desert landscapes, and historical landmarks. California's must-see attractions include the Mojave Desert, the Wigwam Motel in San Bernardino, and the Santa Monica Pier. It's also home to the Griffith Observatory in Los Angeles, the Huntington Library, and the Art Museum and Botanical Gardens in Pasadena. Not to mention the Route 66 Museum in Victorville and the Roy's Motel and Café in Amboy.
Driving Westward or Eastward
There is no right or wrong direction to drive Route 66. While Route 66 is often associated with westbound traffic from Chicago to Santa Monica, the route is just as impressive when traveling in the opposite direction. It all depends on your personal preference and what you want to see and experience along the way.
Driving westbound along the route allows travelers to experience the stunning beauty of connecting with the Pacific Coast Highway in California. Driving eastbound will give you more of the picturesque landscapes of Lake Michigan in Illinois.
No matter which direction you choose, a road trip along Route 66 will surely be an adventure you will never forget.
Best Time of Year to Travel on Route 66
The best time of year to enjoy the attractions along Route 66 can vary. It depends on your interests and the locations you plan to visit. Generally, the spring and fall months are the most pleasant times to travel along Route 66. During this time, the weather is often mild and comfortable.
The weather is typically mild in the spring (March to May), and the wildflowers are in bloom. This is a great time to visit outdoor attractions and enjoy the natural scenery along the route.
The temperatures start to cool in the fall (September to November). It's an ideal time to explore the various museums, historic sites, and other indoor attractions along the route. The fall foliage is also often spectacular, especially in Illinois, Missouri, and Oklahoma.
Summer months (June to August) can be hot and humid, but this is also the peak travel season along Route 66, and many festivals and events occur during this time. However, it's worth noting that some parts of the route, especially in the Southwest, can experience extremely high temperatures during the summer months.
Winter months (December to February) can be cold and snowy in many parts of Route 66, so it's not the best time to travel the entire route. However, attractions and events, such as holiday festivals and skiing in the mountains, can be enjoyed during this time.
Route 66 Road Trip Planning Tips
When planning a Route 66 start-to-end road trip itinerary, it is essential to consider the following tips:
Research the route and attractions beforehand to decide what you want to see and do along the way.
Plan your itinerary, and be flexible and open to detours and unexpected stops, as the journey is just as important as the destination.
You should be prepared for varying weather conditions and pack accordingly. Pack light and bring comfortable clothing and shoes for long drives and outdoor activities.
The road can be challenging due to its narrow lanes, sharp curves, and steep hills. Therefore, driving carefully and planning your trip are essential to ensure a safe and enjoyable journey.
Consider the type of vehicle you will be driving, as some parts of the route may be more challenging for certain vehicles.
Budget for gas, food, and accommodations along the way.
Book accommodations early, especially if you plan to stay at popular motels and hotels along the route.
Remember to take plenty of photos and make memories that will last a lifetime.
Choosing Transportation for Route 66 Road Trip
You have several options when choosing transportation for a Route 66 road trip. Many people prefer to drive or rent a vehicle, while others ride a motorcycle or even take a bicycle tour. Guided tours also provide transportation, accommodations, and narrated tours of the main attractions along the route.
In conclusion, Route 66 is a historic and iconic highway. From its starting point in Chicago to its ending point at the Santa Monica Pier, Route 66 is filled with stunning scenery, historic landmarks, and unique attractions that will make for an unforgettable road trip. Whether you choose to drive the entire route or just a portion of it, Route 66 is a journey that should be on every traveler's bucket list.
If you're planning a Route 66 road trip and need help with the details, including the Williams, Arizona stretch, visit our website for tips and advice on planning your journey!
FAQ
Where Does Route 66 Start and End?
Route 66 starts in Chicago, Illinois, and ends in Santa Monica, California.
What States Does Route 66 Cross?
Route 66 crosses eight states: Illinois, Missouri, Kansas, Oklahoma, Texas, New Mexico, Arizona, and California. Each state offers unique attractions, scenery, and culture that make the road trip a memorable experience.
How Long is Route 66?
The entire route covers 2,448 miles and takes about two weeks to complete, depending on how much time you spend at each attraction and how many detours you take.
How Long Does It Take to Drive Route 66?
The time it takes to drive Route 66 depends on several factors, including how many stops you make and how much time you spend at each attraction. Most people take two to three weeks to complete the entire route, but it is possible to do it in less time if you skip some of the lesser-known stops.
Are Escorted or Guided Route 66 Tours Available?
Yes, escorted or guided Route 66 tours are available for those who prefer a more structured and organized trip. These tours typically include transportation, accommodations, and guided tours of the main attractions along the route.