Everything You Need To Know To Have A Great Trip At The Grand Canyon
A short jaunt from any number of locations in and around Arizona and bordering states, Williams is the perfect place to start your journey to the South Rim of the Grand Canyon. Many visitors ask how far is the Grand Canyon from Williams? Before we answer that, let's talk about this natural wonder of the world.
The Grand Canyon is one of the most popular tourist destinations in the United States. With its stunningly beautiful landscapes created by natural phenomena millions of years ago (and the Colorado River flowing pristinely through it) the Grand Canyon also has miles and miles of hiking trails.
The canyon stretches 277 miles long, up to 18 miles wide, and over a mile deep, and is known as one of the seven natural wonders of the world. The north and south rims are crowd favorites while visiting and present unparalleled views of the landscape and the Colorado River for miles on end.
There's something amazing to see around every corner, so make sure you allow plenty of time when visiting. Whether you choose to explore by foot, car, bike, or boat, don't forget your camera!
South Rim, Grand Canyon
If you're planning to visit the Grand Canyon, chances are you'll be doing so from the South Rim. This is the most popular viewpoint, with easy access to Grand Canyon Village and plenty of tourist amenities. The South Rim is open year-round, and it can get very crowded during the summer months.
The South Rim has fantastic views (as do other points in the Grand Canyon) and there are several activities you can get started on from here. If you're into hiking, there are plenty of trails to choose from that will take you down into the canyon.
There's also a visitor center, several restaurants, and a few small museums. Grand Canyon Village is located about 14 miles from the park entrance, making it easy to get to whether you're driving or taking the free shuttle (it goes every 15-30 minutes).
Approaching the Grand Canyon from Williams, Arizona
When you're visiting the Grand Canyon, it's important to make sure you have all of your bases covered. That means finding a place to stay near the canyon, and also great places to eat and explore.
Williams, Arizona is the perfect town to do just that! Located a little over an hour away from the Grand Canyon National Park South Rim entrance, Williams offers everything you need as a great base while on your trip. Not only are there plenty of places to stay and eat, but there are also some great attractions in town that you won't want to miss.
How Far Is Grand Canyon From Williams, AZ
Located sixty miles south of the Grand Canyon, it takes an hour and twenty minutes to drive from Williams to the Grand Canyon.
If you're going by the Grand Canyon rail service, then it will take you about two hours and fifteen minutes from Williams to the Grand Canyon.
Attractions and Things To Do In Williams, AZ
Bearizona Drive-Thru Wildlife Park
Fancy seeing some diverse wildlife during your stay at Williams? The Bearizona Wildlife Park will let you see bears, wolves, bison, and deer from the safety of your car. There are also a number of walking trails for you to enjoy should you want a closer encounter with the wildlife.
Elephant Golf Rocks Golf Course, Williams
If you're looking for a challenging 18-hole golf course to test your skills, look no further than Elephant Rocks Golf Course. This unique golf course is carved into the red rocks of Williams and provides some stunning views while you play -plus it was rated among the "Top 50 Golf-Courses In The U.S" by Gold Advisor in 2019.
Take a break from the Grand Canyon and enjoy a day on the green at this one-of-a-kind golf course.
Grand Canyon Deer Farm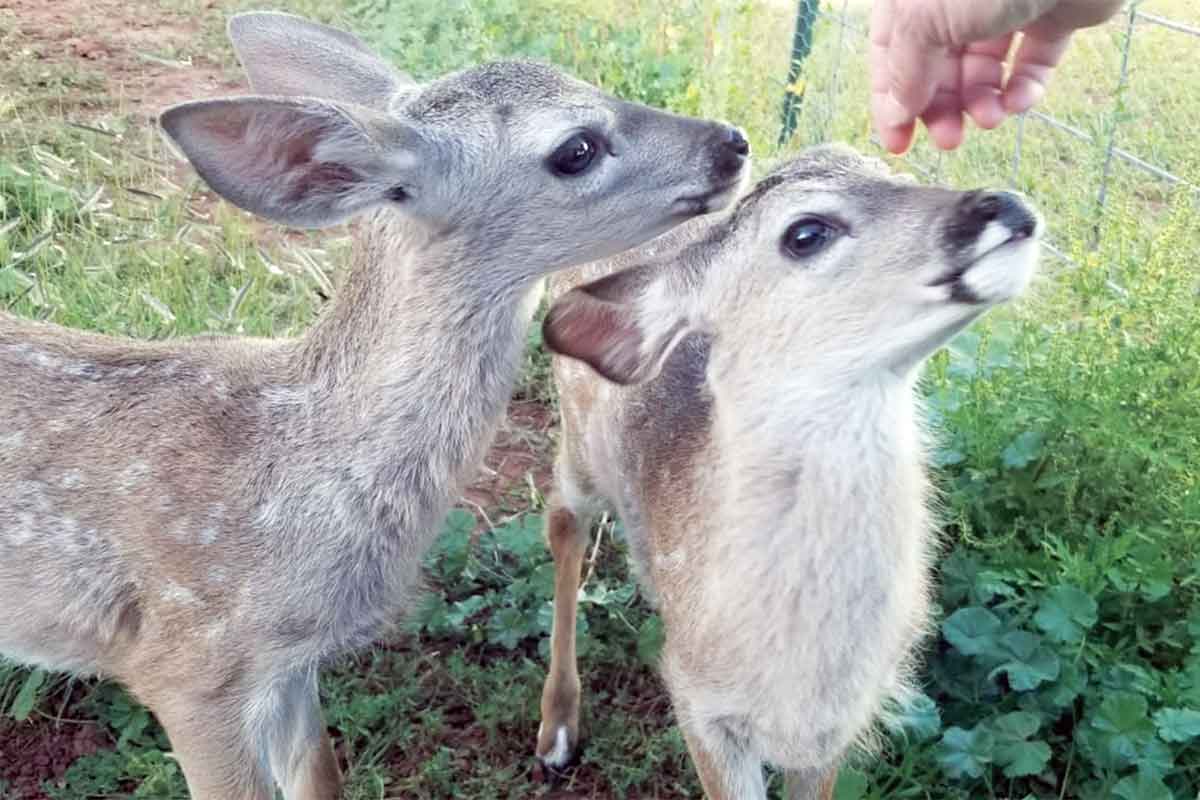 No trip to Williams is complete without a visit to the Grand Canyon Deer Farm. This family-owned and operated attraction has been open since 1967 and is home to over 500 deer. You can feed the deer, pet them, and even take a selfie with one of these beautiful creatures!
The Grand Canyon Deer Farm is a great place to take the family for a day of fun and learning. Admission is free.
Arizona Shuttle
If you're looking for an alternative to driving, take a shuttle from Williams to Grand Canyon National Park. Arizona Shuttle offers transportation services between the two locations and also provides Grand Canyon tours. This is a great option for those who want to avoid the hassle of driving and parking at the Grand Canyon.
The Famous Route 66, Williams
You've come to see the Grand Canyon but you didn't expect an endless shopping, dining and sightseeing experience right on Route 66. This is why people say, "Williams has it all!" This historic stretch of road really comes to life in Williams with its neon lights and quirky roadside attractions.
Juicy Steaks to Craft Breweries or Plenty of Great Grab and Go Restaurants: Your Guide To Eat in Williams (on Route 66)
You've been traveling for miles and now crave some juicy steaks? There are lots of options to eat some scrumptious local delicacies or (if you're short on time) then grab a quick KFC meal and be on your way.
Recommended steak stops on Route 66 are Rod's Steak House (don't forget to try their Rod's Special Charred Steak and the famous Prime Rib Au Jus) or Miss Kitty's Steak House.
If you're looking to try some Thai or Chinese, then head down to the New China Buffet Restaurant or the Dari Thai Cafe.
All-American options include several choices of Burgers, Pizza (Pizza Hut or Pizza Factory) or fine dining (Bayou By You). Do try the Red Raven Restaurant for their delicious Grilled Duck Breast or the Basil Butter Salmon (if you're suddenly craving fish!)
If you don't have the time to do a proper dine-out, just grab some Taco Bell, KFC or Subway on your way.
Stay A Night At One of the Many Accommodation Options Available
It is a good idea to stay a day or two in Williams before embarking on your epic Grand Canyon adventure; several hotels and motels line the iconic Route 66.
Take your pick from the luxurious Grand Canyon Railway Hotel (aka Grand Canyon Railway Resort) located near the train depot or the Ramada by Wyndham Williams/Grand Canyon Area. Or choose a convenient bed and breakfast like the Sheridan House Inn.
If you don't want to stay in a hotel, there are RV Parks and hostels for you to set up camp and spend the night comfortably.
Route 66 Museum
If you're a fan of America's highway system and all things nostalgic, the Route 66 Museum is a must-visit while in Williams. This small museum tells the story of America's most famous road and its impact on the country.
It's the perfect place to learn about the history of the Grand Canyon and the surrounding area and is a great way to spend an hour or two.
Williams Old-West Downtown
Take a walk back in time and explore Williams' old-west downtown. This historic district is home to buildings from the late 1800s and early 1900s, and is the perfect place to take a break from the Grand Canyon.
You'll find plenty of shops, restaurants, and galleries in this charming district with a western flair, and it's a great place to stop before embarking to the Grand Canyon.
Wild West Shootout – Family Fun Abounds
Every day at 11 am and again at 3:30 pm, the Wild West Shootout takes place in downtown Williams. This is a reenactment of a gunfight between the sheriff and his outlaws.
It's a great way to learn more about the history of this area, and is perfect for those who love good old-fashioned family fun!
For a complete list of everything to do in Route 66, please see 66 Things to Do On Route 66 in Williams, Arizona
The Grand Canyon Railway
One of the most iconic way to visit the Grand Canyon from Williams is by way of the scenic train ride on the Grand Canyon Railway. This historic railway takes you on a journey from Williams to the Grand Canyon National Park, stopping at the Grand Canyon Village along the way. The railway has been in operation since 1901 and is a must-do for anyone visiting the Grand Canyon and is a fun experience for the whole family.
Phoenix To Williams
If you're coming from Phoenix, it'll take you about two hours and thirty minutes to make the 175-mile drive to Williams via I-17 N. There's plenty to keep you occupied along the way, and there are a few spots that are definitely worth a stop.
Phoenix To Williams Route
Take I-17 north to Flagstaff, AZ.
From Flagstaff, take I-40 west to Williams, AZ.
Tucson To Williams
If you're coming to Williams, AZ from Tucson, it'll take you about four hours to make the 288-mile journey. Again, there is one stop you'll want to make along the way.
If National Parks are your thing, before heading north to Williams to kick off your Grand Canyon National Park adventure, we recommend taking in the Saguaro National Park It's about thirty minutes east of Tucson, and it's home to the world's largest cacti.
Las Vegas To the Grand Canyon Via Williams
If you're coming from Las Vegas, the quickest way to get to the Grand Canyon is to take highway 93 North until you hit Williams, which is a great starting point. This 278-mile journey will take you about four and a half hours.
Las Vegas To Williams Route
Take Highway 93 south to Kingman, AZ.
From Kingman, take I-40 east to Williams, AZ.
Going To The Grand Canyon Through Williams (aka Williams Depot)
If you are looking for a vacation that is scenic, relaxing, and offers plenty of outdoor activities to explore, the Grand Canyon from Williams Arizona may be just what you're looking for.
After leaving Williams Arizona refreshed with all your needs met (and some souvenirs), take leisurely hours or days to enjoy this American icon. You'll be blown away by the breathtaking views and spanse of the Grand Canyon from the South Rim. Then, you can choose whether you want to stop at the North Rim as part of your return trip home; either way will offer its own special charm.
The views from the rim are amazing no matter which direction you face-whether towards sunrise on one side or sunset on another. There are also several hiking trails available in the park if climbing isn't your thing but seeing nature up close is!
For more information about the Grand Canyon from the National Park Service, please visit www.nps.gov/grca/