One of two national parks with its own zip codes, the Grand Canyon is one of the most impressive natural marvels on Earth. Layers of colored rock as far as the eye can see, its formation is one of the world's greatest mysteries, which is partially what makes it so jaw-dropping.
Many choose to drive to the Grand Canyon, but the more exciting way to visit is by train. Based in Williams, Arizona, Grand Canyon Railway was established way back in 1893 before even being declared a national park in 1919. As the last major stop on historic Route 66 between Chicago and Los Angeles, Williams is home to 3100 permanent residents, yet about 2 million people pass through each year to snap photos of the charming old West town and explore the gateway to the Grand Canyon.
A way to relive the heyday of train travel, there are different classes of service ranging from coach to white glove luxury, which includes free pastries in the morning, and chocolates, meats and cheeses in the afternoon along with a champagne toast. The premier cars also give you access to the whole train including the observation dome and balcony.
The day starts with a Wild West show at the depot, which is interactive and, of course, ends with a shootout. Expect cheesy yet amusing jokes like, "Do you know the difference between an outlaw and an in-law? Outlaws are wanted." Entertainers and photographers roam the cars the whole way and let's just say that's not the last you'll see of the bandits and Marshall. The ride takes about two hours each way passing through the largest Ponderosa Pine forest in the country so keep your eyes peeled for wildlife and other surprises.
If you're not staying overnight at the Grand Canyon, you have about 3-4 hours to enjoy the South Rim. Many combine the trip with a guided bus tour, but you can also explore on your own. There is a free shuttle (the red route) to take you to some of the key lookout spots (Mohave and Hopi Point are recommended), or you can relax in the village. El Tovar and Bright Angel Lodge are some of the best places to eat, while Hopi House offers authentic Native American souvenirs before enjoying a relaxing ride back to Williams.
While You're In Williams…
Stay: Red Garter Inn
A former brothel, bordello, and saloon, this flophouse was once turned into a warehouse for car parts along Route 66. It took 20-30 years of restoration to reach its heyday and is the very definition of "if walls could talk." Now a historic inn, travelers in search of an authentic, local experience love the unique digs, especially those into ghost stories. The property is said to be one of the most haunted in the country.
Don't Miss: Bearizona
Open year-around, this privately owned Wildlife Park is 60% rescue animals with some babies just days old. Part drive-through safari, part bus tour, and part walking tour, you can explore as many times as you want and see different animals each time. The 39 bears are the stars of the show, but you'll also see majestic creatures like bison, fox, wolves, badgers, javelinas (a new to me animal that looks like a cross between a pig and Pumbaa from the Lion King), otters, jaguars, and bobcats. They have feedings, animal "meet and greets," and shows throughout the day with the highlight being the low-flying raptors that actually brush your head. Look out for the bear cubs climbing high in the trees, pay a visit to the barnyard petting zoo, and laugh at the punny animal names like Katy Beary.
Photograph: Wild West Junction
A replica old west town, the complex is home to a hotel, two restaurants (a steakhouse and a diner), and saloon owned by the "Marshall" better known as the real Williams town Mayor. You'd never know it because he runs around dressed in period garb greeting tourists, shaking hands, and hugging babies. There are often performers and gun shows to ensure the vibe is authentically Western and entertaining for all and the food's not half bad, either.
Imbibe: Historic Route 66 Hotspots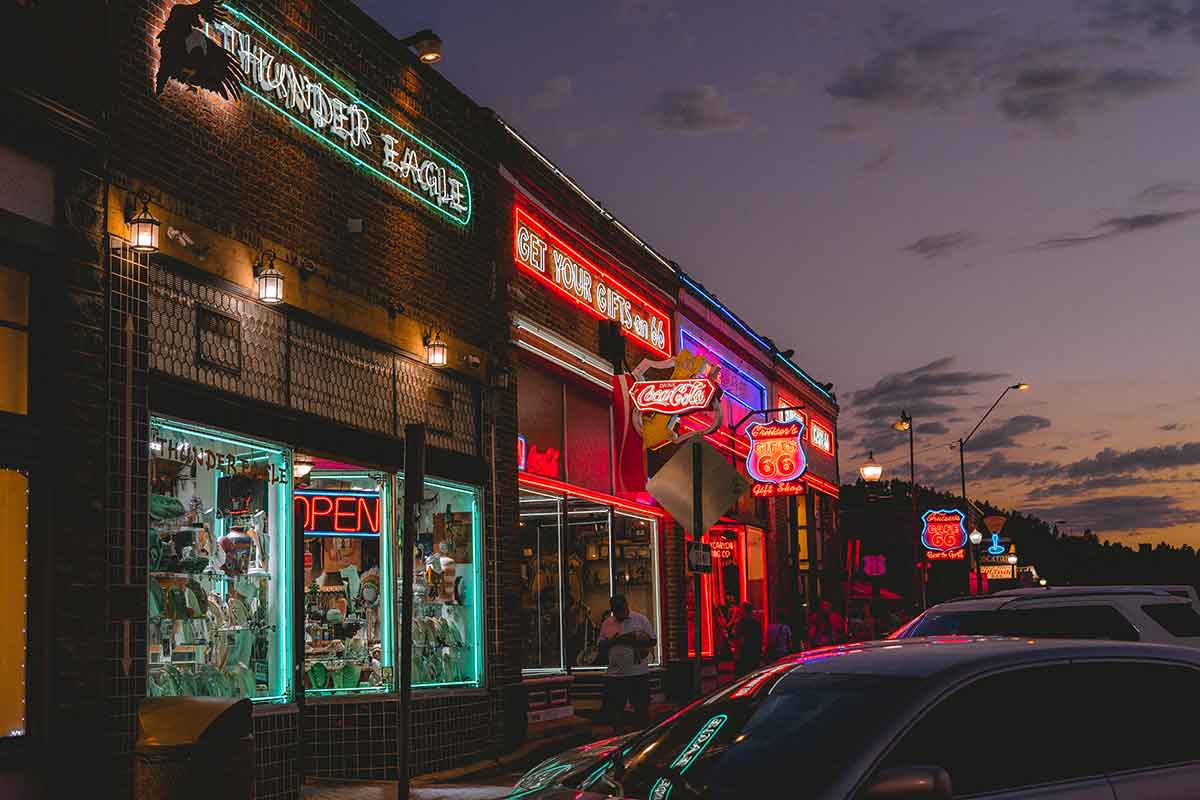 When it's time to eat drink and be merry, head to Anna's Canyon Cafe for the best enchiladas in town, and grab a slice of pie at Pine Country. When you're ready to tip one back, check out the live music at Cruiser's, pay a visit to Sultana, the dive bar to end all dive bars, and Grand Canyon Brewing + Distillery which makes all local libations and craft beers. There are plenty of old-timey signs and markers to photograph so keep your camera handy!
This article was created in partnership with Visit USA Parks.