Are you a classic Japanese car enthusiast? Do you have a passion for vintage vehicles and the iconic Route 66? If so, mark your calendars for the highly anticipated Route 66 JDM Classic Car Show. It's returning this year to Williams, Arizona on Friday and Saturday, October 6-7, 2023.
This annual event has been a beloved tradition for car enthusiasts and collectors since 2010. It showcases the beauty and elegance of classic Japanese automobiles.
Interested in registering your Japanese car? No matter if you're the proud owner of a Datsun/Nissan, Honda/Acura, Toyota/Lexus, Mazda, Subaru, Mitsubishi, Isuzu, or even a vintage Japanese motorcycle, as long as it's a Japanese classic from 1998 or earlier, you are welcome to join!
Below are all the essential details you need to know before attending the Route 66 JDM Classic Car Show 2023.
What is the Route 66 JDM Classic Car Show?
The Route 66 JDM Classic Car Show traces its roots to a small group of Datsun enthusiasts from California and Arizona. These passionate individuals shared a deep love for vintage Japanese cars. They recognized the need for a dedicated event to celebrate and showcase these automotive gems. Their vision and enthusiasm led to the inaugural show in 2010. It captured the attention of fellow enthusiasts and laid the foundation for what would become an annual tradition.
From its humble beginnings, the event has evolved into a gathering for classic car enthusiasts from 28 states, Canada, and Mexico.
The show also supports a noble cause. The Route 66 JDM Classic Car Show team proudly partners with "Raising Special Kids," They are a valuable resource that brings hope and assistance to families with children with disabilities. By attending the show and participating in various activities, you'll be contributing to this worthy cause.
What Are the Route 66 JDM Classic Car Show Categories?
The Route 66 JDM Classic Car Show features a diverse range of categories. Each category showcases these vintage vehicles' craftsmanship, style, and innovation.
Participants enter their cars into categories based on make, model, and other distinguishing factors. The categories may include classics like Datsun, Toyota, Honda, Mazda, Mitsubishi, Subaru, and more.
There are also other categories, such as "Best Roadster," "Oldest," "Longest Traveled," or "Best in Show."
Vintage Japanese motorcycle owners are also welcome to participate.
Who Does the Judging at the Route 66 JDM Classic Car Show?
Only fellow Japanese Classic owners and registered entrants are the judges. Each judge receives one voting ballot.
This process is all in good fun and adds an element of excitement and friendly competition to the event.
Where is the Route 66 JDM Classic Car Show?
The Route 66 JDM Classic Car Show will be held near the Dairy Queen at 603 Historic Route 66.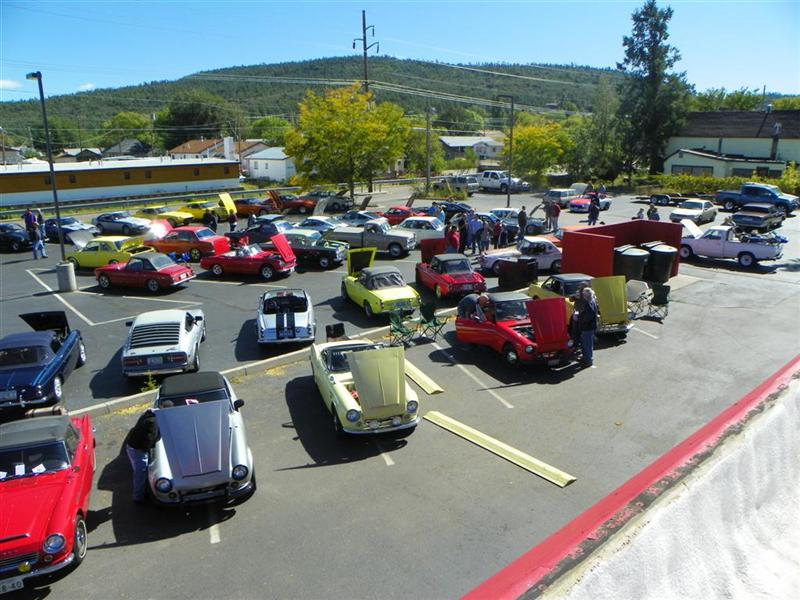 How to Register?
You can register online anytime or during the Meet and Greet on Friday night, October 6th, from 6 pm – 8 pm at Cruisers Restaurant.
On Saturday morning, October 7th, everyone will meet at 603 Historic Route 66 in Williams, AZ.
The show officially starts at 8am, Saturday morning.
To learn more or register online, please visit the Route 66 JDM Classic Car Show website here.
Know Before You Go
Arrive early to enjoy the Route 66 JDM Classic Car Show entirely.
Remember your camera to post and share your experience with others.
Wear comfortable shoes.
Dress appropriately for the weather. Days are hot, and nights can get chilly.
Bring sun protection, such as hats and sunscreen.
Bring a water bottle to stay hydrated.
Bring some cash for convenience.
Plan for meals in advance. Visit the dining section for recommendations.
Arrive early to secure a parking spot.
Plan for accommodations. Williams has various hotels and RV parks for overnight stays.
Refrain from touching or leaning on the cars on display unless permitted. Be mindful of these gems while taking photos.
Consider donating to the "Raising Special Kids" charity or participating in any fundraising activities that may be available.
Bring your friends and family – Kids and pets are welcome.
No alcohol or drugs permitted at the event
Remember these tips to make the most of your experience at the Route 66 JDM Classic Car Show.
Where Can I Stay?
If you plan to attend the Route 66 JDM Classic Car Show, you'll need a comfortable place to stay. Williams offers a variety of lodging options to suit every preference and budget. Williams also has excellent RV parks with amenities for those traveling in RVs to ensure a pleasant stay.
Whether you prefer a cozy bed and breakfast, a modern hotel, or a rustic cabin, you'll find the perfect accommodation in this charming town.
What Else Can I Do in Williams?
While you're in Williams for this event, take the opportunity to explore everything this delightful town has to offer. Experience the nostalgia of Route 66 by visiting the various roadside attractions and landmarks.
Indulge in delicious cuisine at the local restaurants, offering a wide range of options to satisfy your taste buds. Explore the unique shops and boutiques, where you can find one-of-a-kind treasures and souvenirs to commemorate your visit.
To learn more or register for the Route 66 JDM Classic Car Show 2023, visit their official website. Registering in advance will ensure you don't miss out on any exciting activities and updates. If you want to become a sponsor, you can find more information on their sponsor page link.
Join us in celebrating the legacy of classic Japanese cars at the Route 66 JDM Classic Car Show 2023. Get ready to rev your engines and embark on a journey through time on Route 66!