Hiring one of Williams's best Grand Canyon tours is an excellent choice for those seeking an intimate and educational adventure. Williams serves as a gateway to this world's iconic natural wonder.
A tour allows you to fully immerse in the Grand Canyon's splendor without the burden of planning and logistics. With experienced guides at the helm, every detail is expertly taken care of, from navigating the trails to offering enlightening commentary on the geological history, flora, and fauna. It's the perfect way to explore the Grand Canyon with peace of mind, knowing that every aspect of your journey is in capable hands.
Whether you're seeking adventure, relaxation, or a combination of both, you can choose from plenty of Grand Canyon tours. This guide will explore Williams's best Grand Canyon tours and some excellent options nearby.
Spotlight on the Best Grand Canyon Tours from Williams
Canyon Dave Tours
Canyon Dave Tours is your ticket to an intimate and informative Grand Canyon experience. Many tour operators in the city offer Grand Canyon bus tours. However, unlike some, Canyon Dave Tours are for small groups where everyone gets a window seat. Dave's seasoned guides take these small groups on personalized tours. They share their deep knowledge of the area's geology, history, and ecology. These tours provide an educational adventure; as a result, you'll leave with a newfound appreciation for the Grand Canyon.
Dave and his guides' passion for the region is infectious. Their storytelling brings the canyon's rich history to life, thus making it a journey through space and time. You'll gain a deeper understanding of the forces that shaped this natural wonder and the fascinating stories around it.
611 S 10th St. Williams, Arizona, 86046
Phone: +1 877-845-3283
Website: Canyon Dave Tours
Grand Canyon UTV Tours
If you crave adventure and want to explore the Grand Canyon's rugged terrain, Grand Canyon UTV Tours is your go-to option. These guided UTV tours offer thrilling off-road experiences, taking you to areas most visitors never see. Get ready to conquer the trails and enjoy the thrill of an adrenaline-pumping adventure.
As you navigate the challenging terrain on these robust off-road vehicles, you'll encounter hidden gems of the Grand Canyon, such as secluded viewpoints and untouched landscapes. It's an exhilarating way to connect with the wilderness. This provides an adrenaline rush and a deeper appreciation for the untamed beauty of the Grand Canyon.
106 S 9th St Suite A, Williams, AZ 86046, United States
Phone: +1 928-779-3164
Website: Grand Canyon UTV Tours
Tours to the Bottom
If you're up for a challenging but rewarding journey, consider one of the tours that take you to the bottom of the Grand Canyon. These excursions offer an immersive experience, allowing you to truly appreciate the grandeur of the canyon's depths.
Descending into the canyon, you'll witness its geological wonders up close, from ancient rock formations to the mighty Colorado River that has sculpted this natural masterpiece over eons. These tours often include opportunities to explore the inner canyon's trails, interact with knowledgeable guides who share insights about the unique flora and fauna, and even enjoy a meal beside the river's tranquil waters. It's a once-in-a-lifetime adventure that allows you to connect with the Grand Canyon on an intimate level and create memories that will forever resonate with its awe-inspiring beauty.
106 South 9th St. Williams, Arizona 86046
Phone: 928-779-3163
Website: Tours to the Bottom
Grand Canyon Railway
For a classic and nostalgic journey to the Grand Canyon, hop aboard the Grand Canyon Railway. Departing from Williams, this vintage train ride takes you to the South Rim in style. Enjoy stunning views, onboard entertainment, and the convenience of avoiding the hassle of driving and parking at the park.
As the train chugs along the historic route, you'll be transported through the landscape and back to the golden era of rail travel. Immerse yourself in the enchanting atmosphere of yesteryears, complete with charming attendants and a sense of adventure that only a train journey can provide. It's a delightful blend of history, scenery, and relaxation that makes for an unforgettable Grand Canyon experience. Don't miss one of the best Grand Canyon Tours from Williams!
Grand Canyon Village, AZ 86023, United States
Phone: +1 800-843-8724
Website: Grand Canyon Railway
Spotlight on the Best Tours Near Grand Canyon
Bright Angel Bicycles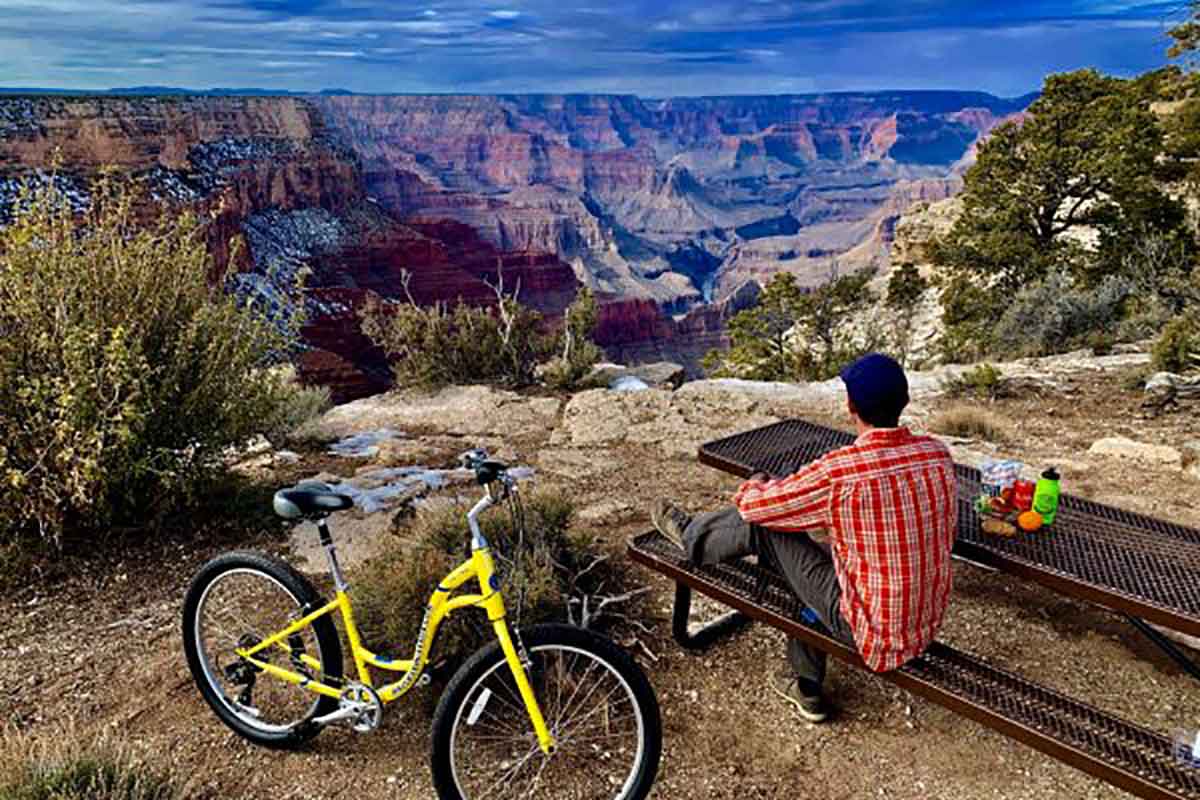 If you're a nature enthusiast and prefer an eco-friendly way to explore the Grand Canyon, Bright Angel Bicycles offers an exciting option. They provide bike tours, allowing you to pedal along the scenic Grand Canyon South Rim. As you do so, the guides share insights about the canyon's geology, wildlife, and cultural history. You'll have the opportunity to stop at various viewpoints, soak in the breathtaking vistas, and truly immerse yourself in the natural beauty of the Grand Canyon.
It's a leisurely and immersive way to experience the wonder of this iconic destination. The gentle slopes and well-maintained trails make this a fantastic choice for families and adventurers.
10 S Entrance Rd, Grand Canyon Village, AZ 86023, United States
Phone: +1 928-638-3055
Website: Bright Angel Bicycles
Paragon Skydive
Consider skydiving over the Grand Canyon with Paragon Skydive for the ultimate adrenaline rush. This thrilling adventure will take you to new heights, literally. Experience the breathtaking freefall and savor the feeling of floating above one of the world's most remarkable natural wonders.
As you leap from the plane, your heart pounding and the wind rushing past, the exhilaration of skydiving amidst the backdrop of the Grand Canyon's sheer cliffs and vast expanses is an unmatched adventure. It's a surreal blend of thrill and awe as you witness the iconic landscape from a perspective few dare to experience. Be prepared to have your senses overwhelmed by the sheer magnitude of the Grand Canyon beneath you, creating an adrenaline-fueled memory that will last a lifetime.
Grand Canyon National Park Airport Main Terminal Building, 3551 Airport Rd, Grand Canyon Village, AZ 86023, United States
Phone: +1 928-224-9661
Website: Paragon Skydive
Pink Adventure Tours
Pink Adventure Tours offers a variety of guided tours to explore the Grand Canyon, departing from Williams. Their iconic pink jeeps and knowledgeable guides will take you on an off-road adventure through the rugged terrain, providing unique perspectives and incredible photo opportunities.
These specially designed vehicles are comfortable and capable of conquering the challenging trails that lead to hidden gems within the Grand Canyon. With Pink Adventure Tours, you'll witness the majestic vistas of the canyon and have the chance to delve deeper into its heart, discovering viewpoints and vistas that remain inaccessible to most visitors. It's an adventure that combines the thrill of off-roading with the wonder of exploring one of the world's most iconic natural wonders.
450 AZ-64, Tusayan, AZ 86023, United States
Phone: +1 800-873-3662
Website: Pink Adventure Tours
Helicopter Tours
If you're seeking a truly breathtaking experience, consider one of the helicopter tours available from the Grand Canyon Airport. These tours provide a bird's-eye view of the canyon's majesty, offering unrivaled photo opportunities as you soar over the rugged landscape. Witnessing the Grand Canyon from a helicopter is an unforgettable experience that will leave you in awe of nature's beauty.
Maverick Helicopters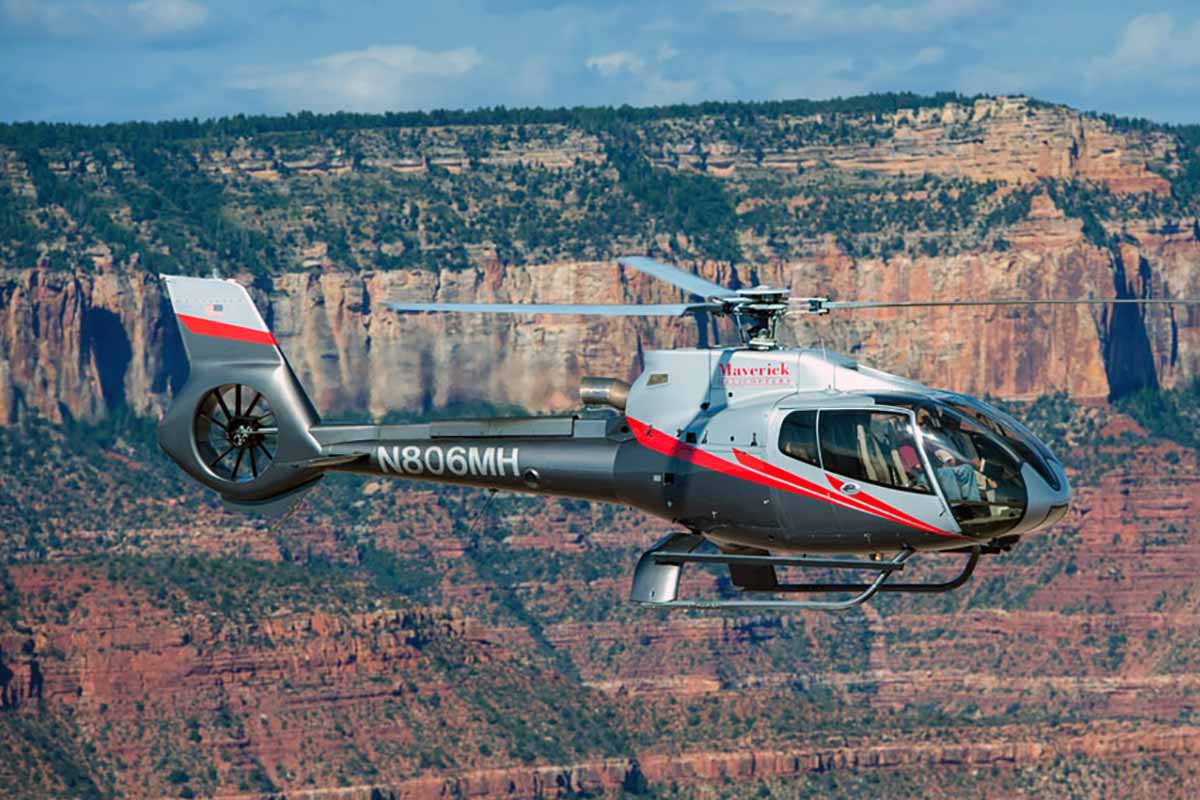 For a bird's-eye view of the Grand Canyon's grandeur, Maverick Helicopters provides unforgettable aerial tours. Witness the canyon's vastness and beauty from above as you soar through the skies in a state-of-the-art helicopter.
As you hover over the dramatic ridges, intricate rock formations, and the meandering Colorado River, you'll gain a profound appreciation for the sheer magnitude and geological wonder of the Grand Canyon. The breathtaking vistas beneath your feet are nothing short of mesmerizing, making this helicopter tour an experience that will forever be etched in your memory.
107 Corsair Dr, Grand Canyon National Park Airport – Hwy 64, AZ 86023
Phone: +1 928-638-2622
Website: Maverick Helicopters
Papillon Grand Canyon Helicopters
Papillon Grand Canyon Helicopters is another fantastic option for those seeking a helicopter tour of the Grand Canyon. Their experienced pilots provide insightful commentary while you take in the panoramic views. You can customize your experience with several tour packages to match your preferences.
Whether you opt for a romantic sunset tour, a thrilling adventure deep into the canyon, or a comprehensive tour that covers all the iconic highlights, Papillon ensures that your Grand Canyon helicopter tour is tailored to create memories that perfectly align with your vision of this awe-inspiring natural wonder.
3568 Airport Rd, Grand Canyon Village, AZ 86023, United States
Phone: +1 702-872-3955
Website: Papillon Grand Canyon Helicopters
Williams Arizona: A World of Adventure Awaits
And the adventure doesn't have to stop there. The Grand Canyon National Park offers diverse experiences across its vast expanse. Imagine venturing through the beautiful Kaibab National Forest to get to the iconic Grand Canyon Village on the South Rim. Once there, you can marvel at the canyon's grandeur from various viewpoints and even glimpse the mighty Colorado River winding its way through the depths.
Or explore the North Rim and discover the unique features that set it apart from the more commonly visited South Rim.
You can also explore the Grand Canyon West Rim and experience the incredible Skywalk. This glass bridge extends over the canyon's edge, providing a thrilling perspective of the canyon floor thousands of feet below.
For water enthusiasts, consider a Grand Canyon tour along the Colorado River. Rafting down this iconic river allows you to witness the canyon's towering walls from a completely different angle. The experience of drifting through the canyon, with the water's gentle current guiding you, is serene and awe-inspiring.
Our Outdoors channel is your gateway to discovering this charming town's unique adventures.
Conclusion
In conclusion, your Grand Canyon adventure is limited only by your imagination and the time you have to explore. There is a Grand Canyon tour that suits every traveler's preferences. Make the most of your visit to this natural wonder and let the Grand Canyon's beauty leave an indelible mark on your soul.